OzarksGo Announces Details For Phase One Locations and Internet Service Offering
June 29, 2016
FOR IMMEDIATE RELEASE
Fayetteville, Ark. – OzarksGo, LLC, a telecommunications subsidiary of Ozarks Electric Cooperative, today announced location details for the first phase of construction of its fiber-to-the-home network, as well as details on its Internet service offering.
Ozarks Electric members served by Farmington, Fayetteville West, Eddie Walker and Tontitown substations will soon be able to sign up for service, which the company hopes to begin later this year. This includes areas such as western Fayetteville, parts of western Springdale, Farmington and Tontitown. A map of phase one locations can be found below.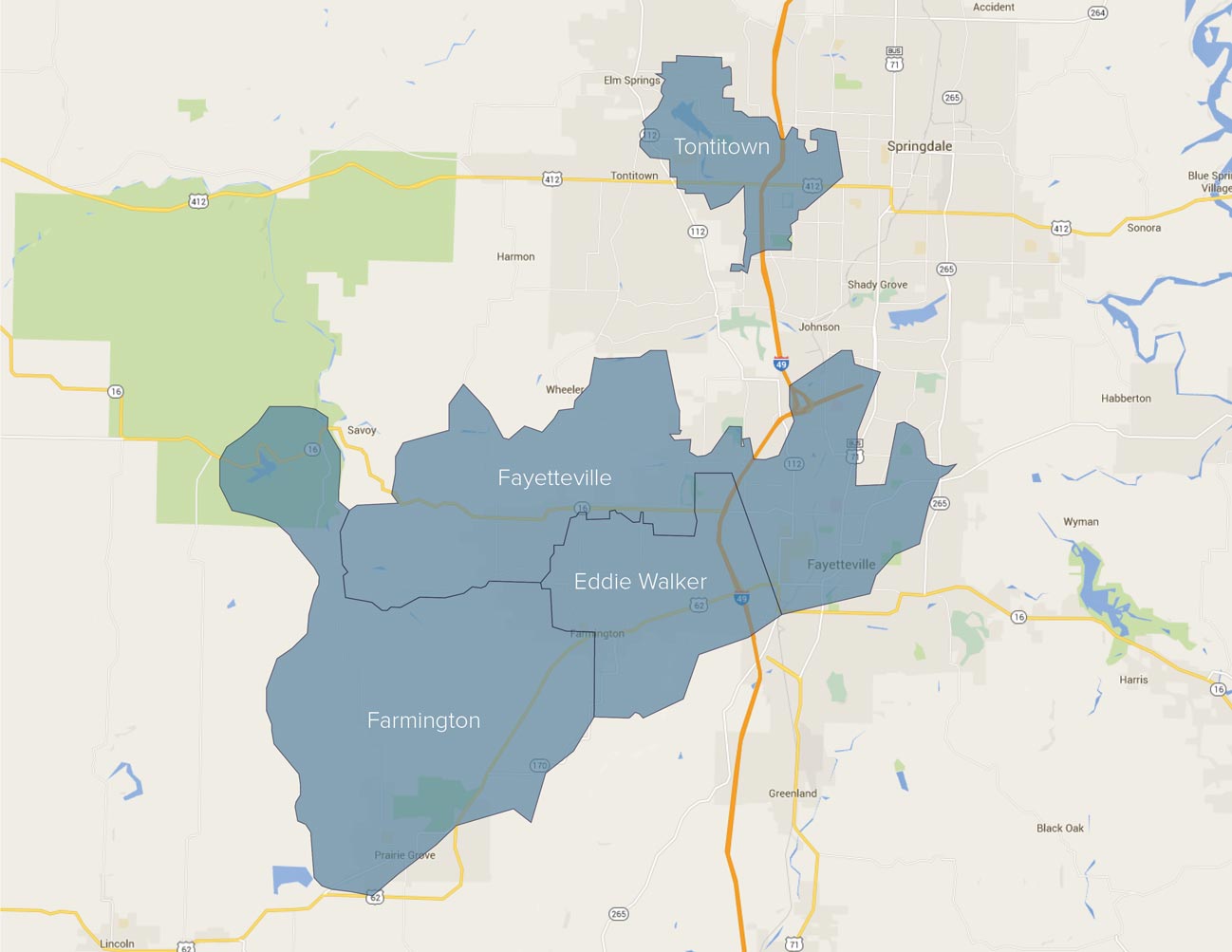 Members in phase one will soon start receiving subscription packets and information, and are encouraged to call 479-684-4900 to confirm their location. An online sign-up form will also be available shortly. People interested in OzarksGo who are not currently members may still sign-up to express interest in service, once the form is available.
"We are really excited about today's announcement. It means we're getting closer to the start of construction," said Randy Klindt, general manager of OzarksGo.
"There are a number of factors that were considered in determining locations. We considered total cost, cost per home or business, potential subscribers, electric cooperative communication needs and office locations," said Klindt. "Areas selected had to be near our existing fiber optic network."
"We are not stopping there though. We will build to all of our service territory as soon as possible."
In addition to phase one locations, the company today also announced details regarding its Internet service offering. The company will offer two Internet packages: Basic and Gigabit.
Basic will offer up to 100 megabits per second (Mbps), upload and download speed, with no data caps, for $49.95 per month. The Gigabit offering will offer up to 1,000 Mbps, upload and download speed, with no data caps, for $79.95 per month.
Pricing for television and telephone services will be announced at a later date.
"By offering two Internet options with straightforward pricing, our subscribers can easily find a service that is right for their needs and their budget," said Klindt.
"Not only is our offering competitive in terms of speed and reliability, our region finally has a truly affordable Internet option where people will get what they pay for."
OzarksGo, LLC, is a wholly-owned telecommunications subsidiary of Ozarks Electric, offering all-fiber gigabit Internet and television and telephone services to Northwest Arkansas and Northeast Oklahoma. Learn more about OzarksGo at www.ozarksgo.net.
# # #
Press Contacts:
Penny Storms
479-684-4640
press@ozarksecc.com